Posts Tagged 'Mobb Deep'
New Mobb Deep visual with the assistance of The Lox titled All A Dream directed by Wiley that will live on their reunion album The Infamous… Mobb Deep dropping later this year.
New Mobb Deep track titled The Outcome that will live on DJ Whoo Kid and DJ S.Whit's upcoming mixtape The Elevation 2 arriving April 19th.
Here's footage of Moob Deep's performance this past Thursday at Double Door during their stop here in Chicago at Double Door for their 20th Anniversary Tour.
Props to WRITERSWEDNESDAY1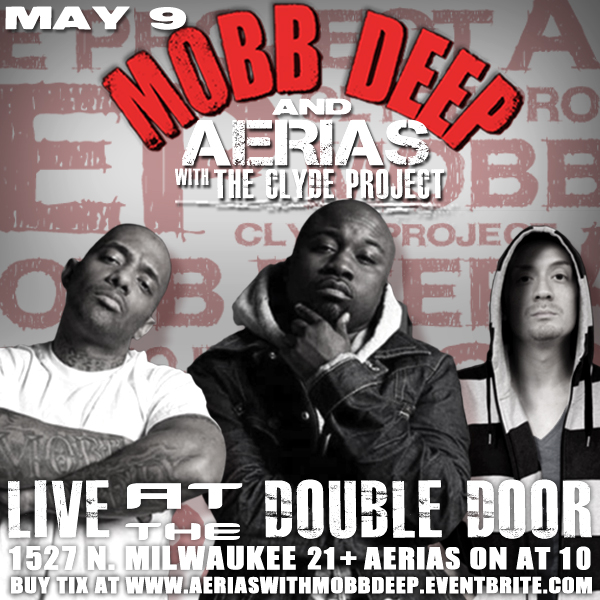 The legendary Mobb Deep will be stopping by Chicago for their 20th Anniversary Show along with Aerias & The Clyde Project at Double Door May 9th. Ticket info below… Continue reading "Event: Mobb Deep 20th Anniversary Show Feat. Aerias & The Clyde Project" »
The highly anticipated mixtape from Prodigy is finally, download and track list below.
Download:  Prodigy – H.N.I.C. 3 (Mixtape)
Prodigy has always been a real dude, watch as he sits down with Thisis50 & Young Jack Thriller an exclusive interview to talk about the Tupac and West Coast beef!
Mobb Deep and Nas is always a great combination, The Black Cocaine EP drops 11/25.
Download: Mobb Deep Feat. Nas– Get It Forever
Black Cocaine EP drops 11/21.
Download: Mobb Deep – Conquer
Latest From Mobb Deep coming off Black Cocaine EP dropping on Black Friday produced by J.U.S.T.I.C.E League.
Better late than never…It's been a while since we heard new material from Jay Electronica, but J.Cole seems to be the main focus for Roc Nation at the moment. So this seems to be a teaser for the fans who are patiently waiting for Act II: Patents Of Nobility (The…
Read More