Posts Tagged 'Busta Rhymes'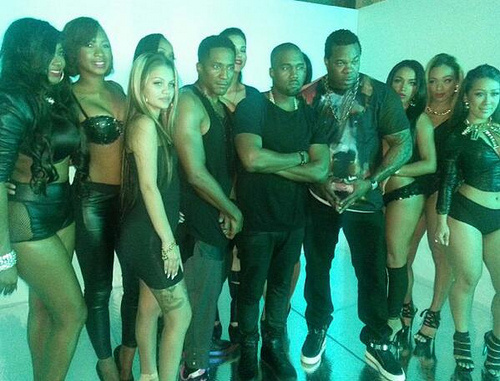 Busta makes his return with his official return with his latest single Thank You featuring Kanye West, Q-Tip & Lil Wayne, not bad. Busta's upcoming project E.L.E. 2 is coming soon.
Continue reading "Busta Rhymes Feat. Kanye West, Q-Tip & Lil Wayne – Thank You" »
The Creators of Wu-Tang Meets the Indie Culture & The Academy now bring you JP Beats presents: The Warning which features 16-tracks and all brand new collaborations from the likes of Busta Rhymes, T.I., Young Buck, George Clinton, Royce the 5'9", Kurupt, Sean Price, Canibus, Planet Asia, Tragedy Khadafi, Cappadonna, and…
Track produced by DJ Premier off their collaboration Fizzyology album set to drop November 6th which features Busta Rhymes, Styles P, Bun B, Freeway, M.O.P., DJ Premier, Statik Selektah & more.
French Montana makes the remix official for Estelle's Thank You along with Busta Rhymes.
Props Flex
Look Ma' no tags, Busta recruits Missy and his labelmate Lil Wayne for the official remix.
Props Splash
Download: Busta Rhymes Feat. Missy Elliott, Lil Wayne & Chris Brown – Why Stop Now [Remix]
Hype Williams directed the video off Bustas Cash Money debut that drops later this year.
Busta joins Kendrick Lamar on one of the hottest tracks off his critically acclaimed Section 80 album. 
Download: Kendrick Lamar Feat. Busta Rhymes – Rigamortis [Remix]
October 12, 2011 |
Awards
,
CYPHER
,
Music
|
2 chainz
,
2011 Cyphers
,
ACE HOOD
,
and B.o.B.
,
BET Hip Hop Awards
,
Big K.R.I.T.
,
Blind Fury
,
Busta Rhymes
,
Chris Brown Nitty Scott
,
Dom Kennedy
,
EstelleLady of Rage
,
Kendrick Lamar
,
kevin mccall
,
Lacrae
,
Ludacris
,
machine gun kelly
,
Reek Da Villain
,
Skillz Tech N9ne
,
Soprano
,
Tyga
,
video
|
No Comments
Here are the rest of the Cyphers…Hit the jump for all the goodies!
Continue reading "Video: BET Hip-Hop Awards 2011 Cyphers" »
Saw this track a few days ago and meant to post it, now Busta is added to the remix!
Download: Jim Jones Feat. Lloyd Banks & Busta Rhymes – Blow Ya Whistle [Remix]
Welcome home X, he really needs to find a way to stay out of Jail and find his way back in the scene. Very nice of Busta for letting X jump on the freestyle with him.
Download: Busta Rhymes x DMX – Otis [Remix]