This past Sunday Tony Cartel held his mixtape release party at a very exclusive private event at the Waldorf Astoria Hotel, big thanks to Tony Cartel for wearing our HMBL BGNGS hat for the evening. Here's a photo recap courtesy of NHOPHOTOS and make sure to download The Takeover now!
Huge Thanks to Nick Hopkins for the Photos. Continue reading "Photo Recap: Tony Cartel – The Takeover Release Party" »







Check out a quick photo recap from this past Thursday's Miller Genuine Draft Get Fresh Tour event featuring Sir Michael Rocks.  Continue reading "Photo Recap: Get Fresh Tour Featuring Sir Michael Rocks" »










Here's a quick photo recap from this past Thursday's T.M.I. Series event presented by Swank PR at the New Era store that featured performances by Chicago's own Tink and Cyhi The Prynce.
Photos courtesy of Chill
  Continue reading "Photo Recap: The Swank T.M.I. Series Presents Cyhi The Prynce" »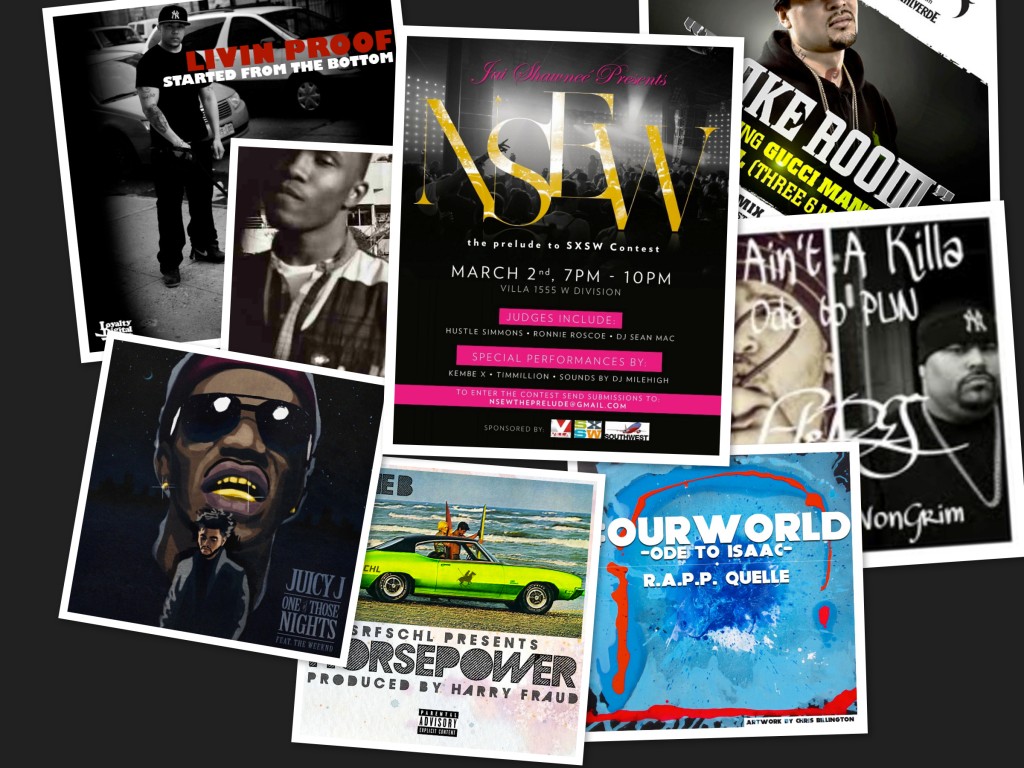 Another solid week in Hip Hop, thanks for visiting as always and below is a quick recap of what went in blog music!
Tracks
A-Wax Feat. Gucci Mane & DJ Paul – Make Room [Remix]
R.A.P.P. Quelle – #OurWorld [Ode To Isaac]
Frank Ocean – Eyes Like Sky
Juicy J Feat. The Weeknd – One Of Those Nights
FloRES – You Aint Killa
Videos
Eazy-E – Ruthless Memories [Trailer]
Gitta Thomas – Moments
Roc Marciano Live at Schubas
Jay-Z Live at So So Def Anniversary Concert
J-Star – All-Star Weekend 2013 VLOG
GLC Feat. Nico Segal – My Downfall
The Boy Illinois – Merci, Merci Continue reading "HHRAPiNFO Weekly Recap" »
Here's the official recap from Tony Cartel's Tha TakeOver showcase that took place a few weeks ago and featured artists like Tree, Ray Chillz and Lungz. Video shot and directed by Moteef Media.
Monday night Nicki Minaj performed at the Roseland Ballroom, in front of a packed out crowd in NYC. Streaming worldwide we watched as Minaj made history all while sharing the stage with her Young Money Family Drake, Lil Wayne and special appearances from Killer Cam and Foxy Brown. This was…
Check out the official recap from Chief Keef during his epic visit to NYC and performance at S.O.B.'s.
Here's a quick photo recap of the Dead Prez event we attended this past Tuesday along with a solid crowd. Dead Prez went trough a bunch of their classics off their impressive collection. Special thanks to Swank PR for the Media invite and check out the photos from our photographer…
HUSTLEPALOOZA: Stop the Violence/Increase the Peace Day culminated with a star-studded benefit concert at The Shrine. The show, Hosted by Dave Jeff, featured performances by both nationally and locally recognized artists in support of raising awareness to the recognizable struggle of violence that Chicago is facing. Performers included: Raheem DeVaughn,…
Here's the recap from Nick Carter Green & King Louie's show at The House Of Blues last month, shot and chopped by Elijah Alvarado of Elephilms.