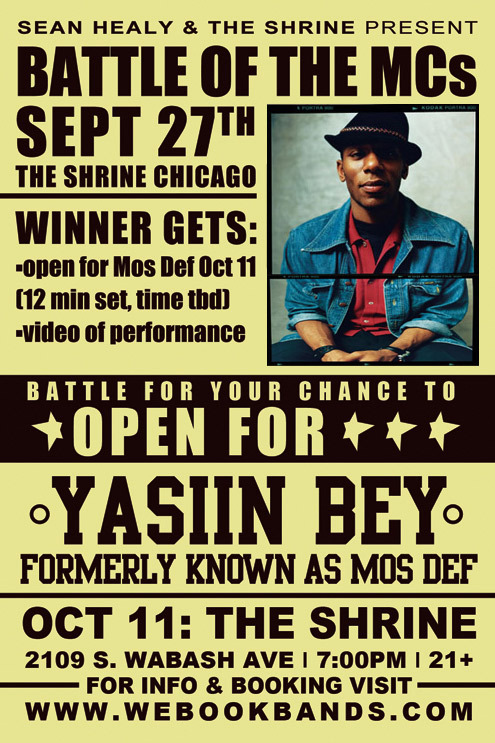 Sean Healy & The Shrine Presents: Continue reading "Events: Win a Chance To Open For Yasiin Bey a.k.a. Mos Def" »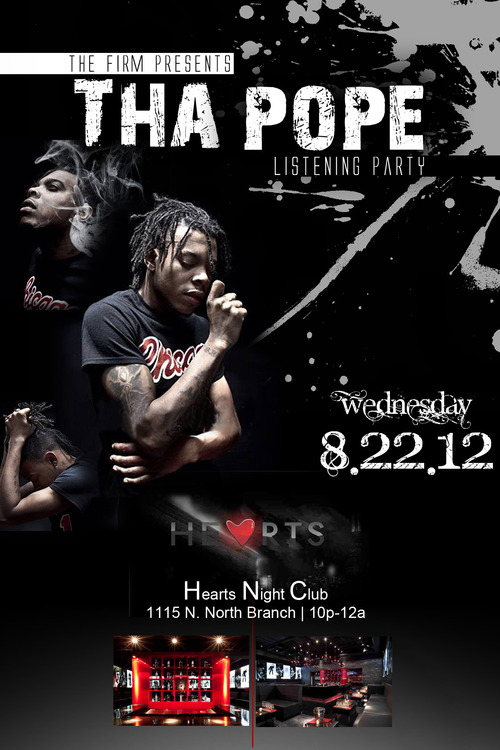 Tha Pope is gearing up to release a new mixtape and wants you to be apart of the celebration tonight at Hearts Night Club: 1115 N. Branch. The listening party begins at 10pm. All media interested in attending this event, please contact info@swankpublishing.com.
Continue reading "[Event] Tha Pope Listening Party at Hearts Night Club" »
On August 30th our good friends at AG-Public Relations will bring you The Takeover showcase at Red Kiva 1108 W. Randolph Street. This will be a FREE showcase will feature performances by a few of Chicago's most dynamic and favored emerging artists: Tony Cartel, Lungz, Ray Chillz and Tree. "The Takeover," hosted…
Sean Healy Presents:
Who: RZA | Performances by Fess Grandiose, Free Ajents, Aerias, Anti Crew
When: Sat, August 11, 2012
Time: Doors: 8:00 pm / Show: 8:30 pm
Where: Double Door
Tickets: $22.00 – $25.00 | BUY HERE
Last night Fabulous stopped by the Chi in-conjunction with Sony and shut the Park West down! Along with opening acts Chance The Rapper, Lil Reese and Rockie Fresh they turnt the place up. I snapped a few pics of the show and ran into the homie Chief Keef (fully dressed in designer labels, may…
Enclave
220 W. Chicago Ave.
Chicago, IL 60610
Phone: 773.655.9200
9PM-2AM
Age: 21+ | Capacity: 1000
RSVP for Free Entry until 11pm! onestopchicago@gmail.com
Or mention "One Stop" at the door for complimentary entry before 11PM.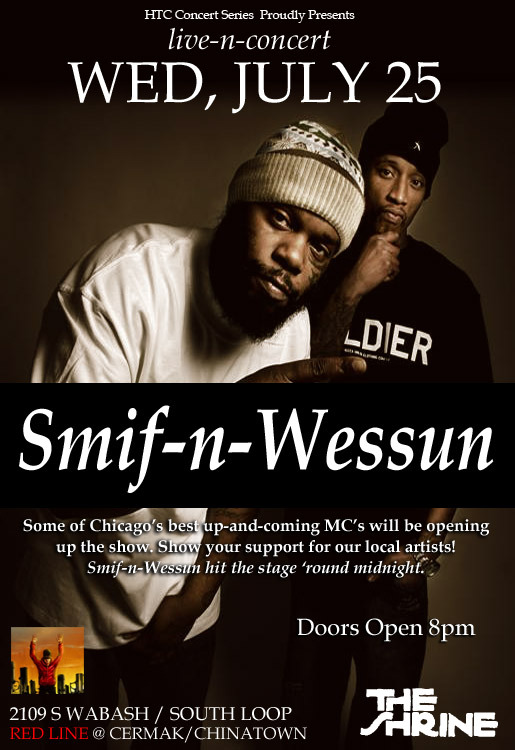 Come and check out the legendary Brooklyn hip-hop duo Smif-N-Wessum at The Shrine this Wednesday. Full info below….
Continue reading "Events: Smif-N-Wessum Live-n-Concert at The Shrine" »
Come join us for some good Hip Hop this Wednesday at Sub-T Lounge presented by Community Service records and us.
Subterranean | 2011 W North ave Chicago, IL |21+ | $5 all night
May 28, 2012 |
Events
,
Live Performance
|
-#NewChicago
,
2 of Diamonds
,
Alex Wiley & Kembe X
,
Caleb James
,
Ebone Hoodrich
,
hustlepalooza
,
J.Clark
,
Kid
,
May 31st
,
Reggie's
,
Spenzo
,
XXTRA
,
Young Giftz
|
No Comments
WHO: Spenzo x Alex Wiley & Kembe X x Caleb James x Young Giftz x 2 of Diamonds x Ebone Hoodrich x J. Clark x KiD x XXTRA
DJ Sets: DJ Ozone + DJ 20 Minutes
Hosted by Hustle Simmons
WHERE: Reggies Rock Club – 2105 South State Street, Chicago, IL // Map It! 
WHEN: Thursday, May 31st | Doors 8:00PM…
May 17, 2012 |
Events
,
Live Performance
|
Corner Boy P
,
Curren$y
,
Fiend 4 Da Money
,
Live
,
Metro
,
Smoke DZA
,
The Jets
,
TRADEMARK
,
YOUNG RODDY
|
No Comments
May 23, 2012 9:00 PM
18 & Over. Valid State/Federal ID required for entry.
Doors open at 8:00 PM.
Also appearing: The Jets Featuring: Smoke DZA, Fiend 4 Da Money, Corner Boy P, Trademark and Young Roddy.
Buy Tickets